Profile: A high ranking Maximal, Optimus Primal was sent on a mission of extreme importance. A Predacon dissenter has taken the name of Megatron, one of the most evil leaders in Transformer history, and embarked on a mission of war. It is believed by the Maximal Imperium that he may cause an uprising in the peaceful ranks of the Predacons. Optimus Primal has shown himself worthy of command to Lio Prime as well as the Maximal Imperium itself. A compassionate being, Optimus Primal is reminiscent of another time in Transformer lore when Optimus Prime led the heroic Autobots in defense of the universe against the malevolent Decepticons. This mission would lead Optimus Primal across space to Earth, thousands of years after the Beast Wars, to discover the secret mission of Megatron. Infiltrate the cave base of Megatron on Earth in the area known as South America and report your findings to the Maximal Imperium. The fate of Cybertron could well rest on him accomplishing his mission.

Abilities: He is schooled in various warfare tactics and is an excellent leader.

Weaknesses: Optimus Primal does not feel that he is leadership material, but others in command believe in him.

Strength: 10
Intelligence: 10
Speed: 10
Endurance: 10
Rank: 10
Courage: 10
Firepower: 7
Skill: 10

Bibliography of significant appearances: There would be SO many more Optimus Primal toys to come, it's strange that the first ever made zero appearances in the cartoons or comics. This character would be upgraded to (gorilla) Optimus Primal in 1996, Transmetal Optimus Primal in 1997 and, along with the spark of Optimus Prime would become Optimal Optimus in 1998. Then he would become Beast Machines Optimus Primal in 2000, Blast Punch Optimus Primal in 2001, Air Attack Optimus Primal in 2002, and Universe Optimus Primal. Botcon Exclusive Optimus Primal in 2006 comes shows us the form of O.Primal before he began the battles of the Beast Wars.

This mold would be used to make Convobat (recolor), a Japanese Beast Wars character as well as Onyx Primal, a BotCon '96 exclusive.

More toy pix:
robot mode 1f
robot mode 1g
robot mode 1j
beast mode 2h
beast mode 2j
beast mode 2k
beast mode 2l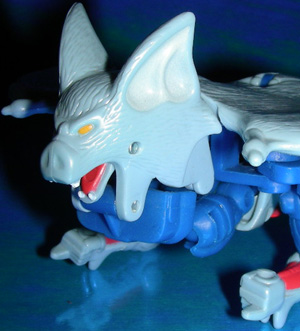 Here is an image from a Japanese card series, showing what he might have looked like had he made it into the comics.