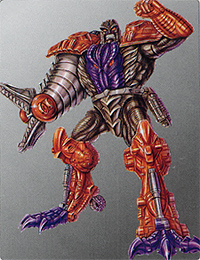 MEGATRON
ALLEGIANCE: PREDACON
SUB-GROUP: TRANSMETAL
FIRST APPEARANCE: Beast Wars Season 2, episode 27,
"The Aftermath"
FUNCTION: PREDACON COMMANDER

A quantum surge rips across the Beast Wars world altering Megatron, evil genius and leader of the Predacons, into a metal armored T-rex. New turbine powered V.O.T.L. (vertical take off and landing) engines extend from his body, providing blasting atmospheric flight and the ability to "drop-in" on unexpecting Maximals with his whiplash cutlass! Fused reptilian musculature enhances his power in an organic robot mode. The result: creation of a supreme tyrant!