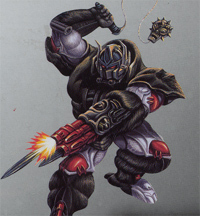 OPTIMUS PRIMAL
ALLEGIANCE: MAXIMAL
FIRST APPEARANCE: Beast Wars, Season 1, Episode 1
FUNCTION: MAXIMAL GENERAL

Move over King Kong, OPTIMUS PRIMAL is ready to rock! The heroic leader has biogenetically re-engineered his body structure into a huge robotic gorilla! Cybernetically fused musculature has enhanced strength to super powered levels. Shoulder-mounted, mega-blast missile cannons launch devastating attacks upon foolish Predacon invaders. When they force him to fight, they force him to win!