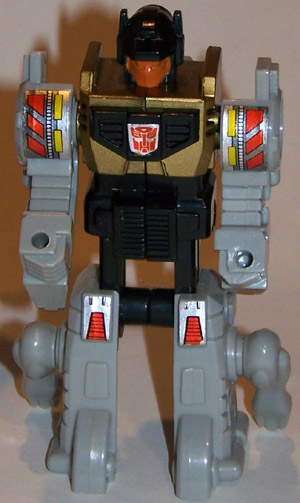 Bibliography of significant appearances:
* Transformers (Marvel Comics) #57: Megatron returns and abducts Ratchet. Back on Cybertron, Ratchet is forced to use his technical know how to bring Starscream back to life in the form of a pretender. In the process, Ratchet spys the 'prototypes' of 3 other Pretender shells he will use to repair 3 fallen comrades who are now with him on Cybertron: Grimlock, Goldbug (Bumblebee) and Jazz.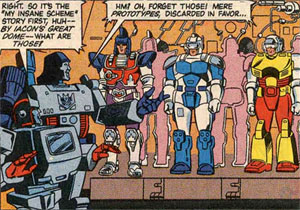 click here and here for additional images.
* Transformers #58 (Marvel Comics)
After successfully resurrecting Starscream in the form of a Pretender, Ratchet sneakily uses the same technology to repair his fallen friends including Pretender Grimlock.
* Transformers #59 (Marvel Comics)
Featuring the less than fantastic art of Jose Delbo, Grimlock and his fellow Classic Pretenders kick butt!
* Transformers #60 (Marvel Comics)
After leading on more Autobots on Cybertron to victory, Grimlock, Bumblebee and Jazz run into some serious competition in the form of the new year's Pretenders, Bludgeon, Stranglehold and Octopunch. Pretender Grimlock also plays a key roll in the first ever U.S. appearance of the Transformers "planet/god" PRIMUS!
* Transformers #61 (Marvel Comics)
Following a long battle with the Decepticon Pretenders, it is a blast from Stranglehold which ricochets off Grimlock's back and into the 'face' of Primus which causes him to awaken!
* Transformers (Marvel) #65 - Pretender Grimlock plays major role in Simon Furman's "Matrix Quest" story line, and eventually gets whipped by a Matrix empowered Pretender Thunderwing!
* Transformers #69 (Marvel Comics) Grimlock leave the Autobots, seeking to restore his fellow Dinobot comrades.
* Transformers #70 (Marvel Comics)
His final episode as a pretender, Grimlock begins seeks to revive his fellow Dinobots and powers up on a strange new power source, "Nucleon." In so doing, he loses the ability to transform and becomes an " Action Master." Revival shown in episode #72