Strength: 8
Intelligence: 7
Speed: 7
Endurance: 5
Rank: 5
Courage: 9
Firepower: 6
Skill: 7
Bibliography of significant appearances:
Cover of Beast Wars The Ascending, #1
*Beast Wars: The Gathering #1: (no appearance, assumed) Stasis pod on prehistoric Earth awakened and chronal phase realigned by Razorbeast.
*Beast Wars: The Gathering #3: Arrives to battle Magmatron.
*Beast Wars: The Gathering #4: Battle with Magmatron.
*Beast Wars: The Ascending #1: Stops the attempted infiltration of Manterror, Retrax and Snapper.
*Beast Wars: The Ascending #3: Goes back to future Cybertron with Lio Convoy.
Other appearances: There was the original Dinobot Grimlock, Classic Pretender Grimlock, and Action Master Grimlock. The original was recolored for G2 Grimlock. This Grimlock was (possibly) upgraded to T-Wrecks. The Classics Grimlock released in 2007 comes after G1. An alternate reality version of Classics Grimlock was released as BotCon 2008 "Evil Autobot" Grimlock. Other Grimlocks, which may or may not be connected with this Grimlock, are Robots in Disguise Grimlock, Armada Dinobots Grimlock, Energon Grimlock, Alternators Grimlock, and Animated Grimlock. This mold was used to make Dinobot, Fox Kids Dinobot, 10th Anniversary Dinobot, Beast Wars Second Thrustor, Beast Wars Neo Hardhead, and Beast Machines Dinotron.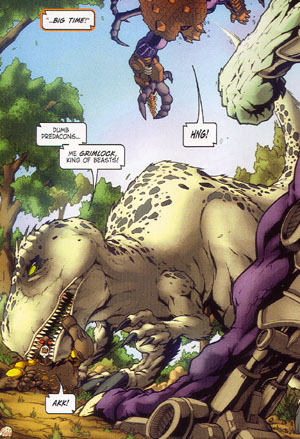 All comic images shown on this page are drawn by Don Figueroa, and published by IDW in Beast Wars, "The Gathering" and "The Ascention."
With the lone exception below, is shown an image from the Beast Wars Sourcebook, issue 2 Grimlock in robot mode drawn by Nick Roche.