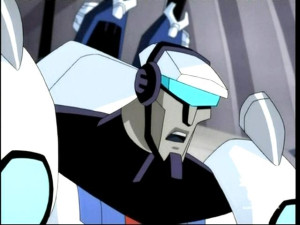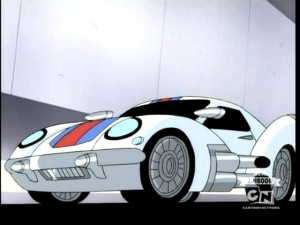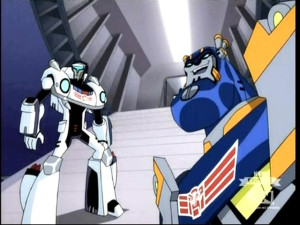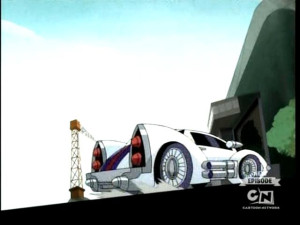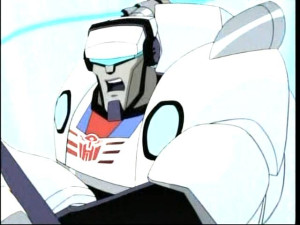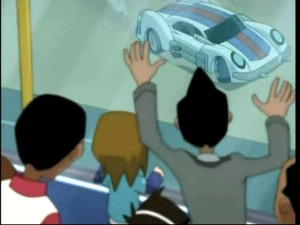 JAZZ (Voiced by Phil LaMarr)

From the (unofficial) "wishful thinking" files of perceptor at unicron.com:
Jazz may be an old dawg, but he's still got pleanty of new tricks. Keepin' it cool is what he's all about and even his promotion to the ranks of the Autobot Elite Guard, he's hip to the grove and as competent a warrior as you'll find on the Autobot forces. Loves Earth culture and always looks for opportunities to observe and participate in Earth civilization. Following his time serving as G1 Optimus Prime's right hand bot, Jazz found peace studying the ancient arts of Circuit-su, while providing himself with an updated new look and fighting style.
Character description from package "tech spec": Autobot Jazz has studied Earth culture since he first became aware of it. He loves everything about it -the music, the movies, the vehicles, and of course -the style! He's usually a pretty chill guy, being a cyber-ninja and all, but he can barely contain his excitement at finally getting to check out Earth and give his new vehicle mode a spin. His excitement won't make him forget his duty, however. He is a master of hand-to-hand combat, with the fastest fists on Cybertron.
Galactic Powers and Abilities:
> Master of Circuit-Su even more powerful than Prowl.
> Prefers hand-to-hand combat to fighting at a distance.
> Member of Cybertron Elite Guard forces.
> Exhaust pipes confert to energy-chucks!
Other appearances: Jazz or Autobot Jazz, as he has been called in recent years since Hasbro lost the copyright to just Jazz, has made many appearances throughout the Transformers Universe.
* 1984 the classic Generation 1 original.
* The 1987 Decoy Jazz.
* 1998 as a Classic Pretender.
* 1990 as an Action Master.
* 1993 a slightly recolored G2.
Then Jazz took a number of years off, with no appearances in Beast Wars, Beast Machines, R.I.D., Armada, Energon, Cybertron or even classics... then...!
* 2007 The live movie and with it many versions: deluxe, Target exclusive recolor, Legends Class, G1 Robot Heroes, Movie Robot Heroes, Fast Action Battler Ion Blast Autobot Jazz, Robot Replicas, Titanium 3" Movie Autobot Jazz,
* 2008 saw another major round! Animated Jazz, Botcon Exclusive part of the Shattered Glass Universe, Target Exclusive Allspark Power Jazz, Premium Deluxe Jazz, G1 Classics Legends Class...
In time, I'll guess there'll be many more to come!
Bibliography of significant appearances: Autobot Jazz is an important member of the Autobot Elite Guard, under the command of Ultra Magnus. As such, he made no appearances in Animated's first season, but played an important role in episodes 14 The Elite Guard and 16 Mission Accomplished.