Transformers Classics,
Mini-con 3-pack
DINOBOTS TEAM:
SWOOP, KNOCKDOWN, and TERRORSAUR
"We fight where others fear to go."
Affiliation: Autobots (Dinobots)
Function: Classified
Alt modes: Mini-con T-rex, Pterodactyl and Triceratops
First Cartoon Appearance: none, perhaps will be included in a future Hasbro.com "webisode"
First Comics Appearance: To the best of my knowledge, (correct me if I'm wrong) only one member of the Dinobots Mini-con team has made an appearance in Transformers mythology. This lone cameo came in the 2007 Botcon Exclusive comic, Transformers Timelines, "Games of Deception" (shown below!)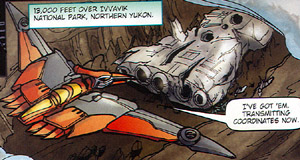 Based on the Transformers Club and Botcon comics portrayal of the "Classics-verse" we assume the characters of Classics/Universe line exist in an alternate reality/dimension, than those of most other Transformers.