INCINERATOR
First Comics Appearance:
Dreamwave, TF: Armada #1 -WAY befor Blurr!
"Not even gravity can slow me down."
Bio: Incinerator is all about speed; he lives it, talks about it, and aiways pushes himself to go just a iittle bit faster. Insecure because of his frail physique, Incinerator struggled to find something else to make himself useful. Finally, he turned his talent for high-speed travel into his claim to fame by working to become one of the fastest Mini-Cons ever, built. His bragging and overcompensating can get on everyone's nerves, even Blurr's, but Incinerator knows that no one can deny his skills. On land, he runs rings around all ground­ bound Decepticons, and even some of their airborne comrades have a hard time keeping up with him. Blurr wishes Incinerator would tone down his self-praise, but he's extremely proud of how hard his partner worked to achieve his goals.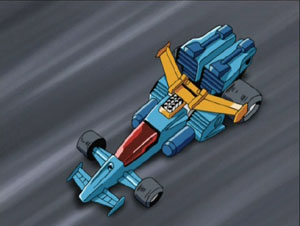 Weapons and Abilities: Subject has below-average strength and resistance to damage. In vehicle mode, the upper limits of his speed are unknown; he's been clocked at Mach I without showing much strain. He's capable of outmaneuvering and outrunning even jets, and land vehicles can't hope to match him. When linked with Biurr, the duo can even gain limited flight capabilities, making them a powerful threat on--and above--the battlefield.
Weaknesses: Subject is easily damaged, and his poor strength limits his usefulness as a hand-to-hand fighter. He is very sensitive to negative comments about him and gets easily depressed if his abilities ­are called into question.
Another pic of Incinerator robot mode