The next challenge was the *energ-, um "ENERGY!" ;) Hm, when fans of Transformers think of Energ-, energy, what color do they think of??? Even the 3 of us brothers disagreed even on this simple point! "PINK," one of us said. "GLOWING and GLITTERY" the other said. I said, "Rainbow blotchy..."
Believe me when I tell you there are entirely different set of stories associated with our search for just the right look!. What we came up with was: ALL OF THE ABOVE! It IS pink, it IS glowing, and IS also rainbow blotchy looking! In fact, it looks like it's got sparks flying around inside the cube! When we stumbled upon the means to produce this... Well, that's when I really got EXCITED! This is it. All I can say is that pictures don't do it justice. It looks different colors >MORE than just the pink, silver and purple you can discern in these pictures. The best I can do to describe it is to say it is a holographic 'sparks' pattern that looks different from different angles, and different in different types of light... which exceeded my expectations of what I ever thought possible.
Each is manufactured on reasonably heavy card-stock sturdy enough to hold its shape. Each is pre-cut and pre-creased.
Instructions: Don't fold any crease more than a 90 degree angle. Bend to about 45 degrees, and close each half of the cube around it until it is held together. That's it! Simple as that!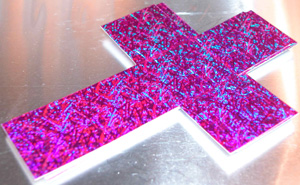 CLICK HERE for a larger, higher rez picture