Before winning the "Best Toy of 2003" award in the January 2004 issue, this toy was highly anticipated and anxiously awaited by fans. ToyFare featured it on the cover of issue #68, April 2003 which included an entire feature article on it. Below are exerpts, written by Zach Oat.

"The Long, Strange Journey of the Biggest Transformer in the Universe!"

When the citizens of Lithone woke up one morning in 2005, they had no idea what the new day would bring. Then a giant planet called "Unicron" drifted into their solar system and ate their world. So began Transformers: The Movie, which shocked kids and parents alike in 1986 by killing off characters (including Autobot leader Optimus Prime) and by introducing the largest Transformer in the galaxy: Unicron, the devourer of worlds. The parents eventually got over it, but kids remained fascinated by the "ginormous, weird-looking planet," as Jazz so aptly described it. As they grew up, they built vast coliections of both Autobots and Decepticons, and later, Maximals and Predacons, but if you asked any of them what toy they wanted the most, they'd say "Unicron." The only problem? Until this year, there wasn't one. That's right-for 17 years, the biggest thing to happen to the Transformers, on both a physical and emotional scale, didn't exist in any form fans could get their hands on. But it turns out that Hasbro and Takara, the American and Japanese manufacturers of the TFs respectively, were just waiting for the right moment. Boy, are those kids in for a treat now.

FROM BIRTH TO THE MOON Although nothing ever carne to fruition, this isn't the first time a Unicron toy was proposed. At least two prototypes were displayed at conventions like BotCon both here and in Japan, but the timing never worked out for both companies, who have worked together on the line since its international success in 1984.

"Takara made a prototype within the last four years," says Aaron Archer, head designer for I Transformers at Hasbro. "They had Unicron in some of their Beast Wars programming that didn't make it to the United States. It never made sense to do a character out of context for the American market, and since we often partner up on responsibilities for costing and whatnot, it never got produced."

The idea for a Unicron toy was never far from Archer's mind, however; in fact, when Hasbro needed a big toy for the Transformers: Armada line, it was he who came up with the idea to introduce Unicron into the cartoon. "We wanted a large item," says Archer. "He's always been looming in the background as a character we've never done and everyone kept wanting to see. I thought if we could make him relevant again, Armada would be the perfect place to do it." Hasbro got on the phone to Takara, and quickly it was agreed: Unicron would be the next big Transformer they made, scheduled for an August release, just in time to work him into the new season of Armada.

"We're in daily contact, so we pretty much worked together to create what size we wanted and what type of features we wanted," says Archer of working with Takara. "We definitely wanted Minicon interaction. We wanted it to be big and to have cool toy features and articulation, and Takara took that, along with the classic styling, and created it for us." The height was an early issue -Hasbro wanted a big item, but not too big. The biggest Transformer toy ever, 1987's 2-foottall Fortress Maximus, recently missed out on a re-release due to its inability to meet current drop-test requirements. Available space at toy retailers was also a strong consideration.

"If it gets any bigger, we can't fit it on anyone's shelf," says Michelle Field, director of marketing for Transformers at Hasbro. "If we were to do it at 24 inches, I have no idea where we'd put it, unless we put it in planet mode [in the box], and we wanted to have this really cool robot." As it is, Unicron stands almost 16 inches tall in robot mode-towering over Armada's Optimus Prime at his tallest-and has a diameter of 12 inches in planet mode.

UNICRON VS. MlNICONS It only makes sense that Unicron is the looming threat in the next season of Transformers: Armada. In a show where the main characters are obsessed with finding Minicons, the smallest Transformers of all, how can they possibly expect to handle a planet that walks like a man? "All of our fall episodes, the last chunk of episodes of the series, will be building toward his coming, so he'll have a huge presence in the TV show," says Field. "He may not be physically in all those episodes, but he'll be the imminent doom that's heading their way." Unicron's impending arrival is such an overarching theme in the show that all of the fall episodes (and all of the toys) will be subtitled "TF:
Armada-The Unicron Battles." Some skeptical Transfans expressed displeasure when they heard that Unicron would appear in Armada, worried what an alternate-reality show clearly targeted at younger kids would do to their beloved icon. But according to Archer, maintaining the character's classic movie styling was their primary goal -a fact clearly demonstrated in the prototype pix seen.

"Pretty much all of us agreed it should be as close as possible to the movie guy," says Archer. "He's still a big planet-maybe not as big as he was in the movie, but essentially the same character. We're not really alluding to the fact that it is <or isn't> the same Unicron, because our continuities don't exactly match up, but he has the same role. Unicron will still fit into the general Armada storyline, as his quest is apparently also for those elusive little Minicons. Not only does he come with a Minicon of his own-an orbiting planetoid tentatively, named Nebulon <originally, but changed to Dead-End> -but he himself is a living, breathing Minicon collector, covered with points for Minicon storage and packed with interactive Minicon-triggered features.

KlCKlN' IT OLD SCHOOL Unicron isn't the only classic Transformer resurfacing this year; Hasbro will be continuing their re-issue of classic "Generation One" figures at Toys "R"Us through the spring. Thundercracker, Silverstreak (a.k.a. Bluestreak) and Jazz hit in February, while Skywarp, Prowl and Red Alert reach shelves in April. However, G1 fans should keep an eye out for some familiar names in the Armada line as well. This month, an Armada-style Thundercracker goes on sale, heralding the formation of an all-new Seeker team with his brothers Skywarp and Starscream. But other characters with familiar names, like Thrust and Sideswipe (both due in stores this month), may not be as older fans remember them. "We do use other names from classic characters, but they're not those characters," says Archer. "We always design the toy first, and then, if a certain amount of characteristics are there and it's the appropriate spot to use it, we'll use the old name to maintain that in our continuity."

One name fans will recognize made its first appearance next to Unicron in TF: The Movie. While Unicron created the Gl Galvatron from Megatron's remains in the film, Armada's Megatron will also somehow become Galvatron before the show is through, shifting his green-camo color scheme to a white and purple. "I can't tell you how the story is going to go," says Archer. "I know that he does undergo a change as he collects more Minicons and gets more power."

When using old names, like Galvatron, Archer always wants it to make as much sense as possible. "We try to keep their essence. For instance, we like to always make sure Scavenger is a construction vehicle, and Prowl is always a police or emergency-type car." Recognizable paint schemes, like on the new Thundercracker (and the upcoming Skywarp), can also help capture the spirit of old characters. "There are a few, the second Hot Shot, for one, I think people will like," says Archer. "It'll remind them of a classic Gl character." Might this be yet another "hot" TF: The Movie color scheme? Here's hoping Archer will spare the "rod" and spoil all us overgrown kids.

Editor Zach Oat liked TF: The Movie, but he always wondered why Optlmus Prime didn'tg come out of that coma at the the end the film. Wake up, Optimus!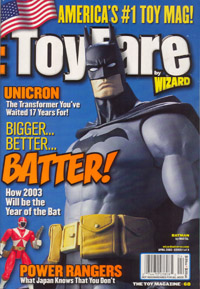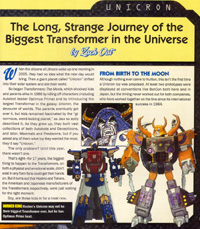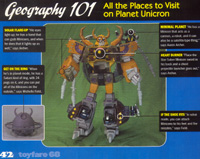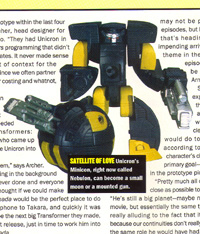 click the picture below (or HERE) to see an enlarged picture version of the Unicron toy ad below: