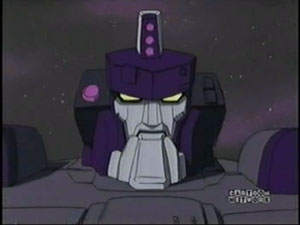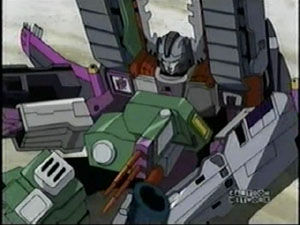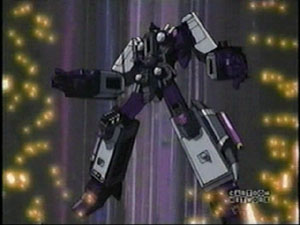 Weapons and Abilities: Raw power. Physically, Tidal Wave is the most impressive of my ranks. Besides his tremendous physical strength, this simple-minded behemoth's dense hide and reinforced superstructure allow him to shrug off attacks that would leave a normal Transformer on the verge of terminal stasis lock. His powerful, weaponry-laden alternate modes have earned him the nickname "Dark Fleet" throughout the galaxy, and it's well deserved. He has the capacity to transport troops, lay siege to whole cities, or destroy entire battalions.

Weaknesses: Unfortunately, for all intents and purposes, Tidal Wave's cranial chamber is as dense as that hide of his. However, that minor flaw is easily overcome--it's simply a matter of maintaining control of that simple little mind of his. The true problem lies within his strange loyalty to that miserable parasite~. Without him,Tidal . Wave is more apt to run wild, effectively becoming -.. more of a liability than an advantage.

Other Appearances: One of the few characters in the Transformers Armada that does not share a name with any other G1 character. One thing I really like about Tidal Wave is that there appears to be little-to-no debate, this is the first time we've seen this character in TF Universe. Right here in Transformers Armads. He is one of the few characters to immediately carry over into the following series, TF: Energon in 2004, w/ same body form, new color scheme and Energon accents.