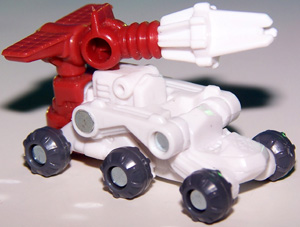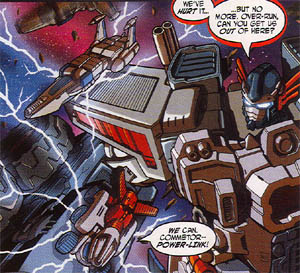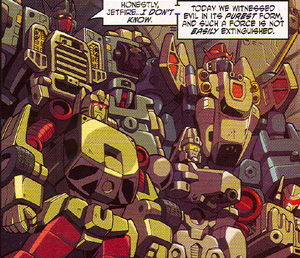 Bio: Somber Comettor's sensors are always on the skies. Being stuck in one place too long doesn't suit him at all, no matter where he is. He needs to travel and explore, and he's happiest when he's doing just that. He had hoped that partnering with letfire, whose space travel capabilities are well known, would give him the chance to travel the universe and discover new worlds and new societies. Unfortunately, those opportunities have been extremely limited during the Autobot/Decepticon war over the Mini-Cons. Although they'll occasionally have to travel to a new world, it's almost always due to some kind of Decepticon trouble, rarely giving the inquisitive Comettor the chance he desires to truly delve into unexplored planets and the mysteries they may hold. Jetfire understands his partner's frustration-after all, the war keeps him from enjoying himself as well-but is concerned that Comettor's need to explore and stay on the move may have a darker cause: the MiniCon's overall uneasiness with himself. Despite this, Comettor is a brave and loyal warrior and friend to his Autobot partner.
Weapons and Abilities: Subject possesses above-average intelligence, but below-average physical abilities. He is an astute explorer with extensive scientific insights and technical knowledge. In vehicle mode, he is an effective all-terrain exploratory vehicle that can relay communications as far as 250,000 miles away; he can also act as Jetfire's front landing gear in this mode.
Weaknesses: [From the Personal Files of Jetfire, Autobot] Comettor's lack of self-confidence can make him downright depressing sometimes...which is usually when I have to send us on some mission to take his mind off himself. Because of his arms' configuration, he lacks the ability to manipulate small or intricate objects.