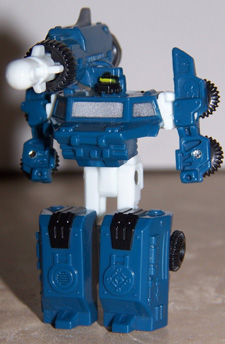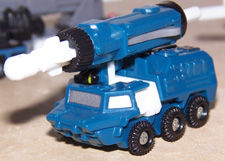 BROADSIDE
"Fear the darkness and shadows, for we are there."

From the personal files of Knock-out
Bio: It's like looking into a mirror. A dirty, cracked, ugly-makin' mirror. Yeah, Broadside and his unit got a lot In common with us. They're warrior Mini-Cons who are unaligned with any faction, not to mention the fact that they were built to be pretty much our physical doubles. But this Broadside scraplet is nothing like me, and don't you forget it. He's , a cruel, pretentious shell of a 'bot who's always spouting off half-brained verses about "darkness this, shadows that:' Whatever. He'd better stick to the darkness, all right, 'cause if I ever catch sight of him on the battlefieid there isn't gonna be too much left of him.

Weapons and Abilities: Okay, so Broadside's not exactly a punk in the strength department, and he's a crafty fighter when he's got darkness on his side. He's also got super-hard armor plating, and a main weapon that's pretty much the equal of mine. His shoulder cannon can fire powerful energy blasts or an anti-personnel missile that's effective up to 5 miles in robot mode and 8 miles in vehicle mode.

Weaknesses: I hate to say it, but Broadside doesn't have too many real weaknesses. Unless you count that face of his-ugh!