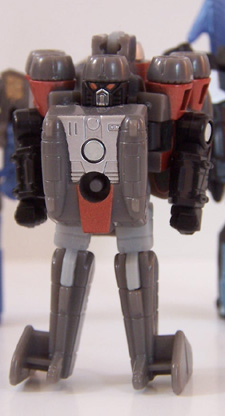 GUNBARREL
Allegiance: Mini-Con
First Cartoon Appearance: None
First Comic Appearance: None (other than MTMTE)

"Death from above."

Bio: "Likable" isn't a word that's often used to describe Gunbarrel. He's more likely to be described as difficult, domineering, or even intolerable. But his inability to deal with other beings on a personal level doesn't make him any less effective at his job leading the Air Military Team. All of his negative traits may make him hard to endure, but they also serve to make him a no­ nonsense, effective commander. Although he respects his teammates, Gunbarrel consistently has a hard time reigning in Terradive's boisterous antics. Finding great pride in his accomplishments, Gunbarrelloves to carve symbols into his armor to commemorate victories; he's even got his own motto seared into his arm! So far, his attempts to get his comrades to endure similar metallic tattooing have met with a lukewarm response.