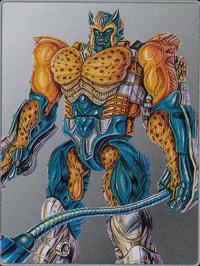 CHEETOR
SUB-GROUP: TRANSMETAL
ALLEGIANCE: MAXIMAL
FIRST SHOW APPEARANCE: Beast Wars Season 2
episode 27, "The Aftermath"
LAST SHOW APPEARANCE: Beast Wars 3,
episode 44, "Feral Scream, Part 1"
FUNCTION: ROBOTIC JUNGLE PATROL

Following the massive quantum surge, Cheetor emerged as a cybernetically enhanced cheetah. Meanwhile, his robot form inherited the organic traits once attributed to his beast mode. Now Cheetor prowls the jungle with more agility and power than ever before. Flip out cyber thrust wings provide enhanced speed and limited flight while in beast mode, making him part jet, part mechanical cheetah.