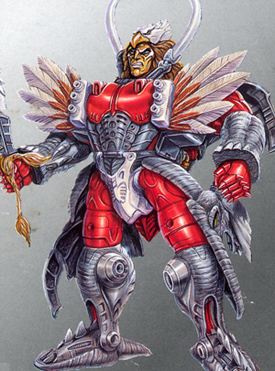 MAGNABOSS
ALLEGIANCE: MAXIMAL
FIRST CARTOON/COMIC APPEARANCE:
(sadly) NONE
FUNCTION: COMBAT LEADER

A new breed of super robot blasts its way to the head of the Maximal battle lines with three times the fighting force! Prowl's ferocity, Silverbolt's swiftness, and Ironhide's strength team up to form Magnaboss -a triple power threat capable of annihilating any Predacon enemy, even the ultra combative Tripredacus. Magnaboss owns the battlefield, arming itself with a massive, megaton battle sword composed of Silverbolt's razor-tipped wing swords and Ironhide's blunt force battle clubs mounted on Prowl's cyber tail claw. If two heads are better than one, Magnaboss is way ahead of that game ...times three!