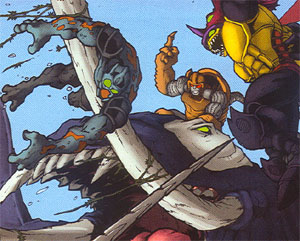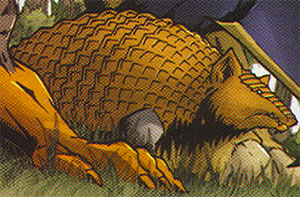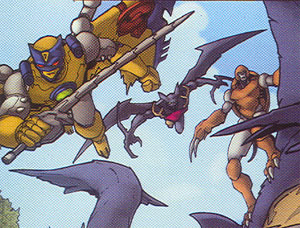 Profile: Armordillo is a creature of the night. Other Maximals may feel that he does not benefit the team, but when the sun goes down Armordillo is on patrol. He will burrow into the ground for cover, and use his armor for defense. He is slow and patient, able to sneak up on enemy encampments or battle platforms. Armordillo is especially deadly in the desert, where he utilizes his armor's internal cooling systems to outlast Predacon attackers. He prefers to fight in beast mode, where there is less of his body exposed, and he can use his claws to slash the enemy. Even though he prefers not to fight, Armordillo is certainly no coward. There's no assignment too dirty or dangerous that Armordillo would not accept. He wants the bigger Maximals to accept his contributions in spite of his size.

Abilities: Possesses built-in suit of armor that is virtually impenetrable. Infrared vision allows him to battle at night, when the desert battlefield has cooled, thus reducing his thermal energy intake.

Weaknesses: There are places that his armor does not protect, especially in robot mode. Armordillo assumes that his armor will always protect him.