We fans continued to follow the stories of the Transformers, but like the previous year, there were no new shows, only some (improving) new comics by Marvel. Plot summaries by Byrerprime and links to cover images are provided below.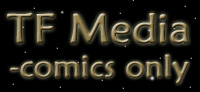 issue #54 cover KING CON! by: Bob Budiansky, Jose Delbo, Danny Bulanadi Introducing the Micromasters. While the Off Road Patrol tackles Skullgrin in the swamps of New Jersey, the Race Car Patrol tries to stop Iguanus in NYC. Iguanus tries to climb the Empire State Building to complete his mission.
issue #55 cover THE INTERPLANET- ARY WRESTLING CHAMPIONSHIP! by: Bob Budiansky, Jim Fern, Mike Gustovich; Roadhandler, challenged on television, faces Jackhammer in the ring and beats him quite easily. But fresh from Cybertron comes Storm Cloud. Farewell to Bob Budiansky, thank you for five years of Transformers. Good Luck on Sleepwalker. Personal note: I 'll always remember thinking that the cover to TF issue #55 was the worst drawn comic cover of all time! Oh, I just hated it! First of all, the drawing was ugly as sin, second of all I didn't care how small the micromasters are, there's no human that could ever womp a Transformer! Especially not one with hair as thick as spagetti, who wears green and purple pants and has a face so ugly his own mother cringe, Yuck!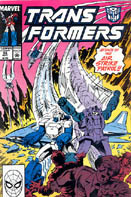 issue #56 cover BACK FROM THE DEAD by: Simon Furman, Jose Delbo, Dave Hunt; The beginning of an era. Simon Furman takes over regular duties in the US. More Micromasters and the return of an old foe from certain death. Universe entries for Battletrap, Blot, Cutthroat, Goldbug, Rollbar, and Wide Load.
issue #57 cover THE RESURRECTION GAMBIT! by: Simon Furman, Jose Delbo, Dave Hunt On Cybertron, Megatron recounts the events after issue 26 (when he blew himself up), and involves Ratchet in a horrible scheme. And on Earth, Optimus Prime faces the crew of Scorpinok. Universe entries for Cloudraker, Overkill, and Slugfest.
issue #58 cover ALL THE FAMILIAR FACES! by: Simon Furman, Jose Delbo, Dave Hunt; Megatron's plans conclude with Starscream getting a pretender body, but Ratchet tries to stop him by reviving three A's into pretender shells. Starscream is sent to Earth. Universe entries for Afterburner, Lightspeed, Nosecone, Scattershot, Strafe, and Computron.
issue #59 cover SKIN DEEP by: Simon Furman, Jose Delbo, Dave Hunt Grimlock vs. Megatron, Starscream vs. Optimus Prime, Ratchet tackles Megatron into the portal and they are assumed destroyed. Universe entries for Nautilator, Overbite, Seawing, Skalor, Snaptrap, Tentakil, and Piranacon.
issue #60 cover YESTERDAY'S HEROES! by: Simon Furman, Jose Delbo, Dave Hunt; Grimlock, Jazz, Bumblebee, and the Rescue Patrol go deep to Cybertron's core, but are followed by Bludgeon, Octopunch, and Stranglehold. There they find Primus. Optimus Prime attempts to deal with Ratchet's demise. Universe entries for Misfire, Pointblank, Slugslinger, and Sureshot.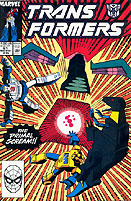 issue #61 cover PRIMAL SCREAM by: Simon Furman, Geoff Senior; Don't wake daddy, I mean Primus, or Unicron will hear him and come to get us. Of course we want to see Unicron. Universe entries for Triggerhappy, Landfill, Quickmix, and Scoop. Welcome aboard UK TF and Dragon's Claws artist Geoff Senior.

issue #62 cover MATRIX QUEST PT.1: BIRD OF PREY! by: Simon Furman, Geoff Senior, Nightbeat, Hosehead and Siren travel to the planet Pz-zazz in search of the matrix, and the D's are never far behind. Universe entries for Hosehead, Nightbeat, Siren, and Backstreet.

issue #63 cover MATRIX QUEST PT.2: KINGS OF THE WILD FRONTIER. by: Simon Furman, Jose Delbo, Dave Hunt; The Triggerbots travel to the planet Cheyne in search of the matrix, and find themselves in the middle of something that's not at all what it seems. Universe entries for Dogfight and Override.

issue #64 cover MATRIX QUEST PT.3: DEADLY OBSESSION by: Simon Furman, Jose Delbo, Al Williamson, Dan Reed; Longtooth turns Moby Dick on the planet Pequod instead of looking for the matrix. Doubleheader and Pincher try to stop him. Universe entries for Crankcase and Needlenose.

issue #65 cover MATRIX QUEST PT.4: DARK CREATION

by: Simon Furman, Geoff Senior;

Has Grimlock found the matrix - Or has it found him? My favorite quote is Grimlock, "Fed up with weaklings crying about Unicron! Give me back my Dinobots and we kick butt!" (Movie reference) Universe entries for Spinister and Windsweeper.

issue 66 cover MATRIX QUEST PT.5: ALL FALL DOWN by: Simon Furman, Geoff Senior

; Unicron devours a mechanoid planet and recreates three "survivors" into Hook, Line and Sinker. Thunderwing posesses the matrix and attacks the A's including Optimus. Universe entries for Quake and Ruckus.