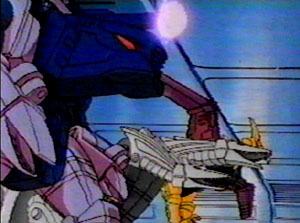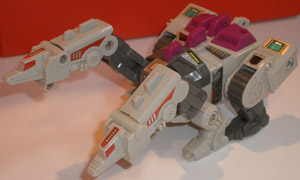 Okay, I admit it! This toy has been slightly altered. Original versions of this toy do not have red eyes in dragon mode> just an grey ~visor. Also, the robot head has an all purple head, w/ silver eye shield. Yes, I painted the face silver and the eyes red.

Other Appearances: To the best of my recollection, Hun-grrr has made no other appearances in the Transformers Universe. The Terrorcons, after their involvement in the "G1 series" became a larger faction highly involved in the series Transformers: Energon. What, if any, connection has yet to be explained.

Bio, Weapons/Abilities & Weaknesses text has been <ahem> borrowed from the awesome Dreamwave comic series: TF MTMTE, More Than Meets the Eye #7. Along w/ many other characters & outstanding artwork, we highly recommend you go buy yourself a copy today!