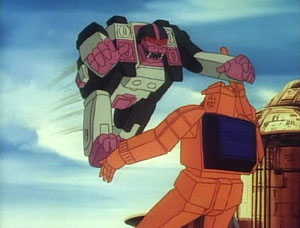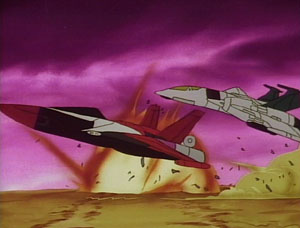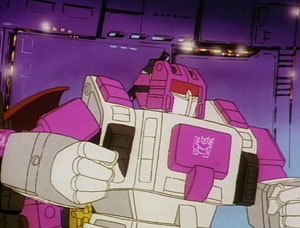 Abilities: In jet mode twin liquid hydrogen-fueled jet engines enable Apeface to reach speeds of 3,250 mph. He can emit powerful jamming frequencies from his nose cone, which he uses mainly as a defensive measure to disorient approaching enemy aircraft. Otherwise, he has no offensive capabilities in jet mode. Apeface primarily uses his jet mode to transport himself to the site of his mission objective, where he transforms to his ape mode. In this form, he possesses great strength and agility, which he uses to great effect in climbing about and sabotaging enemy installations. In robot mode, he wields a semi-automatic sonic boomer, which emits wave after wave after wave of concentrated sound energy.
Weaknesses:

Lack of offensive weapons makes him fairly vulnerable in jet mode.

Spasmas's often-erratic leadership dangerously delays Apeface from reacting to enemy attack.
Other appearances: Neither Apeface or Spasma have appeared again in any other generation of the Transformers Universe besides the G1 cartoon and comics. They did, however make numerous appearances in the Japanese cartoon series: Transformers: "Headmasters."